From those that meticulously study the draft to those that casually check out the names of the players that their favorite team selected, every fan has some favorite players that they hope wear their team's colors in the fall. Sometimes that can result in a lot of excitement on the off chance that the player they have in mind goes to their team instead of the other 31. More often than not, falling in love with one player ends with them going elsewhere.
For myself, I have tried not to pick a particular player that I want in teal for 2011 because 2009 and 2010 didn't go as planned. In 2009 BYU wide receiver Austin Collie was a player I felt could be a great playmaker for the receiver needy Jaguars, but he instead went to the division rival Colts. In 2010, UCLA cornerback Alterraun Verner was the one player I wanted and again a division rival snapped him up, this time the Titans.
So for 2011 I have instead decided to have a list of potential players that I like and I feel would positively benefit the Jaguars.
FIRST DAY (ROUND 1)
A) Prince Amukamara, CB, Nebraska – The Nebraska cornerback is projected to be long gone by the time the Jaguars clock starts at 16, but there is an off chance that he could slip. After all, no one projected that OT Eugene Monroe was going to fall to 8th and the Jaguars in 2009.
If the Jaguars were fortunate enough to have the All-American and Big 12 Defensive Player of the Year on the board when they select, they would be able to instantly shore up a shaky secondary. Amukamara would be an instant starter for the Jacksonville secondary at cornerback, allowing Rashean Mathis to slide into the free safety spot.
B) Cameron Jordan, DE, California – Jordan is another player that is projected by most to be off the board by the time the Jaguars are on the clock, but the likelihood of him making it to 16 is much higher than that of Amukamara. Jordan has all the size and speed necessary to be an elite defensive end in the NFL in any scheme, including the 4-3 that the Jaguars currently run.
C) Christian Ponder, QB, Florida State – I haven't been too shy about going on record to say that I'm a strong proponent for the Jaguars drafting a quarterback early in the draft next week. The need for a franchise QB is evident and with strong quarterback prospects projected to be drafted in the back half of the first round, the Jaguars are in position to finally address the position they've ignored drafting for eight years.
With Ponder, the Jaguars would be drafting an extremely intelligent quarterback with the ability to be as good, if not the best quarterback of the 2011 draft class. He graduated Florida State with a degree in finance in just 2 1/2 years and has shown enough arm, when healthy, to make all the throws necessary to be successful in the NFL.
D) Colin Kaepernick, QB, Nevada – If the Jaguars are unable to draft Ponder, Kaepernick would be an excellent consolation prize. It's hard to find much to say about Kaepernick that are negatives and had he played at a bigger name school like Auburn or Missouri, it's very possible that he'd be the one going in the top 10 instead of Cam Newton and Blaine Gabbert.
He has NFL size at 6'5, 233 and an NFL-quality arm that proved to be the best among those that participated at the combine. His score of 37 on the Wonderlic test only helps to prove that he's no dummy either and someone who would be able to learn an NFL playbook and diagnose the action as it happens.
SECOND DAY (ROUNDS 2-3)
A) Jabaal Sheard, DE, Pittsburgh – Gene Smith has been meticulous about finding players that are productive players on the field, but also model, high-character professionals off the field. In each of his two drafts, the players he has selected have been squeaky clean and as such, there hasn't been a Jaguars player arrested in the last two years. So you might be saying that the Jaguars will instantly scratch a player like Sheard off their draft board as he was arrested and pled guilty to disorderly conduct after being charged with aggravated assault and resisting arrest.
This is a time in which judgement of a player's character should be withheld until all the facts of the situation are brought to light. Prior to the arrest,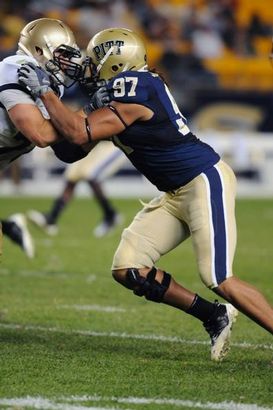 Sheard was considered a model player and a team captain for the Pittsburgh Panthers and even earned a bravery medal for helping "an elderly woman escape from her burning home in Florida."
The details of Sheard's arrest in July of 2010 haven't been fully revealed, but what is known is that he was involved in an altercation with another man and threw the man through a glass door before being subdued by police with pepper spray. The fact that the charges were both reduced to a single charge of disorderly conduct and the judge only ordered him to pay $300 and cover the man's medical costs bode well for Sheard.
On the field, Sheard has shown the ability to be a premier pass rusher in the NFL with good size (6'3, 264) and speed (4.68) that translated to 19 career sacks with the Panthers. The Jaguars might be able to draft Sheard in the second round and help up a sack count that finished 31st in the NFL.
B) Rahim Moore, S, UCLA – While the talent at the safety position is poor in this year's crop of players, it is not impossible to find one. Moore is the consensus best safety in this year's draft, but is thought by most to be someone that will be drafted in the second round in April. The 6'1, 202 pound junior decided to enter the NFL Draft after being named to the AP All-America team in both his sophomore and junior seasons.
In 2009, Moore led the nation with 10 interceptions and always managed to find himself in the right place at the right time to make a play. While he may not warrant a first round pick, Moore is still a player that could contribute right away for the Jaguars and provide a starter at the free safety spot that has plagued the team for years.
C) Will Rackley, G, Lehigh – The Jaguars love small school guys and I'll admit, I'm starting to catch the fever myself. Among the small school guys that are sure things to be drafted next week is Lehigh's versatile lineman, Will Rackley. Rackley was simply dominant at his level of play, earning first team All-Patriot league honors in three consecutive years and anchoring an offensive line at left tackle that gave up only 14 sacks in 2010.
Despite playing tackle for Lehigh, he is being talked about as a potential interior lineman at the NFL level and even ran center drills during his workout with the Jaguars. With the aging Vince Manuwai and Justin Smiley, Rackley could be a stalwart among the interior of the Jacksonville offensive line for years to come.
THIRD DAY (ROUNDS 4-7)
A) Korey Lindsey-Woods, CB, Southern Illinois – Continuing on the trend of small school players is Southern Illinois cornerback Korey Lindsey-Woods. If KLW doesn't fit the bill of the type of player that would be perfect for the Jaguars, then I don't know who does. He's a small school player that was very productive (tallying 12 interceptions in his final two seasons at SIU) and has all the athleticism necessary to be successful at the next level. To top it all off, he has a hyphen in his name which we all known means good things in Jacksonville.
B) Ricky Elmore, DE, Arizona – Projecting who will be a successful pass rusher in the NFL is an extremely difficult thing to do and it's a position that has a lot of draft busts because of it. Guys like Vernon Gholston are becoming more common as pass rushers become more of a premium.
Sifting through all the workouts and measurables, sometimes on-field production can get lost. Elmore is a player that managed to put it together in a big way on the field. In his final two years as a member of the Arizona Wildcats, Elmore totaled 21 sacks. His relentless pursuit of the quarterbacks made him one of the feared pass rushers in the nation.
However, his light frame and less-than-ideal speed will likely push him into the later rounds of the draft. With his production, though, it's very possible that he could find similar success in the NFL as a pass rusher.
C) Ryan Jones, CB, Northwest Missouri State – OK, last small school guy. Jones is another player that has the athleticism necessary to be successful at the next level. At 5'11, 198 and with 4.46 speed, Jones could be a player that finds success in the NFL at any position in the secondary.
At the NFLPA game, Jones showed himself to be a player that was coachable and picked up on subtle nuances of his game quickly and also showed to be a player that can instantly contribute on special teams. Don't worry about production either as he led all of college football in the last two years in interceptions and pass breakups.
D) Lester Jean, WR, Florida Atlantic – With the departure of Mike Sims-Walker to free agency the Jaguars are likely going to be on the lookout for another receiver to add to their roster. The one aspect of the receiving corps that they lack is someone who can be a possession receiver and help to move the chains on third down. At 6'3, 215 Jean can be that player for a very low price or possibly even an undrafted free agency contract.