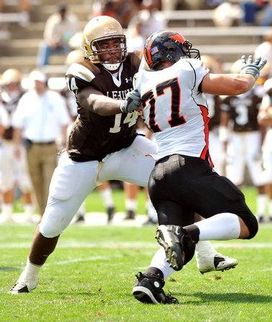 The Jaguars have some solid pieces for the future along their offensive line. Eugene Monroe, Eben Britton, Kevin Haslam and Uche Nwaneri all represent youth on the line that can translate into longterm fixtures. While this youth does exist, there is some age on the interior of the line that needed to be replaced during this offseason.
Vince Manuwai and Brad Meester both had relatively strong seasons, but those players will be turning 31 and 34, respectively, prior to the beginning of next season. By adding Lehigh G Will Rackley with the 76th pick in the 3rd round, the Jaguars provide themselves with a long-term replacement along the interior of the line. Something that was likely high on Gene Smith's list of priorities as he continues to improve the roster.
Rackley was a four year starter at Lehigh, earning first team All-Patriot League honors in his final three years and first team FCS All-American honors in his final two years. He displays all the character traits that Gene Smith admires in a player, serving as offensive team captain for the Mountain Hawks. Rackley started at tackle for Lehigh, but at 6'3, 307 and speed in the 5.1-5.3 range he'll likely move inside in the NFL.
Josh Buchanan, the head writer at JBScouting.com and someone who exclusively scouts small school talent, had this to say about Rackley:
He has the massive thighs and is strong enough to slide inside to handle those bigger tackles. He also struggles some with speed off the edge making a switch to guard more attractive him.
When asked what Rackley's biggest weaknesses were, Buchanan cited consistent technique and blocking in space as the points that needed to be improved upon. In the NFL, these weaknesses can be masked by a move to the interior of an offensive line.
Expect Rackley to immediately find a starting spot somewhere along the interior of the offensive line during his rookie season. According to Rackley, the Jaguars worked on tackle, guard and center drills during a private workout with the Jaguars.