Here we go again ladies and gentlemen, the third installment of our prospect watch for the 2011 National Football League Draft.  This list contains one of the best Wide Receivers to come out in a long time, a very special Cornerback, and a pass rushing specialist.  I hope you enjoy.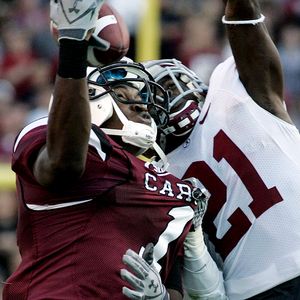 Alshon Jeffery, WR South Carolina
**Alshon brings all the tools needed to be a true
Number One Wide Receiver in the National football league.  He is a large bodied, lengthy, wideout with good speed to stretch the defense and all the tools to come back or go up for the ball.  He would be perfect in teal as he gives us the true NUmber One we have lacked since Jimmy Smith left us all those years ago.  While Mike Thomas is solid, He is nothing more than a NUmber Two.  A Core of Jeffery, Thomas, and Shorts III in the slot.  That is a group Garrard can command and Gabbert can groom.
Specs:
6'4 235 pounds 4.55 40
Stats:
2009- 46 receptions 763 yards 6 tds
2010-88 receptions 1517 yards 9 tds
Breakdown:
Pros
*Elite size
*Elite speed
*Elite hand-eye-ball coordination
*Elite catching ability and hands
*Above average to elite body control
*Above average coverage reading ability
*Quick first step
*Overly physical at the line
Cons
*Needs to improve route running
*Needs to assume the leadership role this season
*Needs to improve ball placement
*Gets lazy on plays
*Watch body catches when left alone
Cliff Harris, CB/R Oregon
**Cliff Harris is a special kind of player.  He can do it all and do it very well.  Whether it is returning kicks or shutting down the opposing teams best receiver, there was no one better in the Pac-10 last year.  He does take risks but takes command of the ball, he reminds me of a more versitile Rashean Mathis with the same skill set.  He can struggle against bigger wideouts, but can hold his own.  He would come in right away and challenge Cox for the #2 with the loser taking thte #3 slot, allowing Rod Issac to play the Nickel or move to safety.  And when Mathis does leave the team, he can step right in.
Specs:
5-11 185 pounds 4.48 40 
Stats:
2009- 17 tackles 1 int
2010- 30 tackles 6 int
Breakdown:
Pros:
*Great Playmaker (think DeSean Jackson in the return game)
*Great ball instincts
*Takes good angles
*Reads Routes well
*Ballhawk
*very Athletic
*Great in coverage
Cons:
*Takes a lot of risks
*Small
*Does struggle in Man to Man vs bigger WRs
*Tendency to be late off snap
*Off the field issues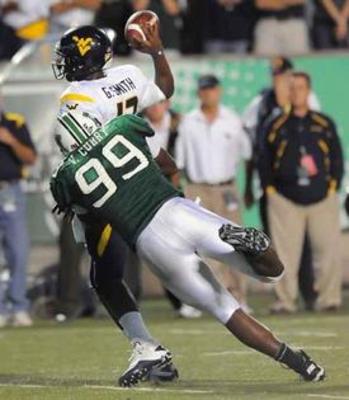 Vinny Curry, DE Marshall
** A pass rushing specialist coming into their senior year.  Where have we heard this before Jaguarsfans?  But here is the difference, Vinny is actually improving every year and learning new tricks and moves to get to the quarterback.  He does need to prove that his 2010 year wasn't a fluke, but if he does, watch out for him to be rocketing up draft boards as either a 43 DE or 34 OLB.  He has a solid skill set, but will struggle against bigger Offensive Tackles, something he needs to improve on.  Why is another DE needed on the team Matt?  We already have 8.  Well, Derrick Harvey is all but gone in pre-season and Kampman is coming off another knee.  And who knows how he will come back.  That leaves Jeremy Mincey and Austen Lane to pick up the slack on one of the worst pass rushing teams in the league already.
Specs:
6'4 252 pounds 4.68 40
Stats:
2010 -94 total 12.0 sacks 1 FF
2009- 59 total 3.0 sacks
2008- 9 total 1 FF
Breakdown:
Pros:
*Great Size
*Great speed
*Attacks the point of attack
*Great closing speed
*Great quickness
*Above average instincts
*Sheds blocks easily against smaller OTs
Cons:
*Struggles against 2+ defenders
*Struggles against bigger OTs
*Over pursues
*Gets jammed more times than not
*Average in the run game
*Plays against mediocre opponents
*Needs to show another strong year