Over the last week I collaborated with Justin Wendel and BigCatCountry's Brad Hill and participated in a week long mock draft called #MockThree. The idea was that each team would have a "war room" of sorts consisting of about three people that are well-versed in the ways of their team and are knowledgable about the draft. The draft would then take place on Twitter with each team working together to make their selection or get in contact with the representatives of other teams and make a trade.
In the days prior to the draft, we in the Jaguars war room worked together to create a full draft board, ranking 233 players because the Jaguars can't acquire a compensatory pick beyond 233.
CLICK TO SEE THE JAGUARS #MOCKTHREE DRAFT BOARD
Our goal was the address the Jaguars needs while still staying true to our board. We targeted a few players and tried to move to where they would be available at a good value. Most importantly, we targeted a quarterback in the first round that would be the future face of the franchise. When we were placed on the clock at 16, Christian Ponder was the player at the top of our draft board and he was the player we were targeting in the first round; however, we felt we could trade down and acquire more value before selecting him.
The Patriots were willing to deal with us because J.J. Watt, a player they were targeting was on the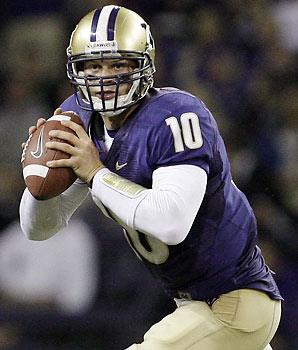 board still and they wished to move up. Instead of moving up from 17, they instead decided to move from 33 so that they could select two consecutive players. After some negotiations we agreed to a deal that sent the 16th overall selection to New England in exchange for the 33rd (2nd round) and 74th (3rd round) picks as well as New England's 2012 3rd round pick.
However, at 33 we were not comfortable with staying and hoping a quarterback would fall to us. After the Titans traded up to take our target QB, Christian Ponder at 22nd overall we felt it wasn't worth staying and risking missing our second guy. We negotiated a very affordable trade with the Saints at 24th in which we sent picks 33 (2nd round), 121 (4th round) and 182 (6th round) in exchange for picks 24 (1st round) and 226 (7th round). With our newly acquired pick we selected Washington QB Jake Locker, ranked 13th overall on our draft board.
While perhaps a little excessive with the amount of trading, I believe #MockThree provided one of the most accurate 7 round mock drafts that you'll be able to find. On the other hand, the amount of trading done may be a realistic simulation of a draft that should feature more trading than usual due to teams' inability to address their needs with free agency.
Here are the final draft picks that we, the Jaguars, came away with at the mock draft's end:
Pick #. Player, Pos., School (Board #)
24. Jake Locker, QB, Washington (13)
49. Ben Ijalana, OT/OG, Villanova (32)
72. Curtis Brown, CB, Texas (57)
93. Nate Irving, LB, N. C. State (60)
114. Tyler Sash, S, Iowa (87)
127. Austin Pettis, WR, Boise State (72)
167. Korey Lindsey-Woods, CB, Southern Illinois (104)
207. Joe Lefeged, S, Rutgers (112)
219. Akeem Dent, LB, Georgia (155)
227. Lester Jean, WR, Florida Atlantic (153)
Plus New England's 2012 3rd Rounder.