Today we continue with my countdown of the top 25 Jaguars players of today. Players 25-21 were released yesterday and today players 20-16 will be revealed. Here is the list so far:
25. Derek Cox – CB
24. Vince Manuwai – G
23. Eben Britton – OT
22. Kirk Morrison – LB
21. Rashean Mathis – CB
Next up is the player that captured the 20th spot…
20. Brad Meester – C – Northern Iowa
If longevity was considered a factor in this list, Brad Meester would certainly be higher than 20th on the list. After all, his 161 career starts are the most in franchise history and he's the most tenured player on the Jaguars roster. After being drafted in the second round of the 2000 draft, Meester started immediately as a rookie and held his starting spot for 92 consecutive games until a torn biceps tendon forced the streak to end.
Never in Meester's career has he played in a game that he didn't start. During this long career with the Jaguars, Meester has been the starting center during some of Fred Taylor's finest seasons as well as Maurice Jones-Drew. While those two have received all the credit for the dynamic run identity of Jacksonville, Meester's contributions have been overlooked.
ProFootballFocus hasn't overlooked Meester saying, "Game after game, Meester showed himself to be a consistently positive influence on the Jaguars' run game, finishing as the NFL's fourth best run-blocking center." At age 34, Meester's prime is in the rearview mirror, but his play in 2010 showed that he can still hold his starting spot in 2011 and continue to have the positive impact that has made the Jaguars running game so successful.
19. Rashad Jennings – RB – Liberty
Rashad Jennings has started just three games in his still very young NFL career, yet he has managed to accumulate 661 yards rushing, five touchdowns and a 5.4 yards per carry average. As long as Maurice Jones-Drew stays healthy, it's probably doubtful that we'll see Jennings starting any time soon, but there is certainly a comfort level among Jaguars knowing that a dynamic back is right behind Jones-Drew.
When Jones-Drew's knee reached the point that he could no longer play, Jennings took over for the Pro Bowler and started the final two games of the season for the Jaguars. Although the team couldn't get the week 17 win they desperately needed in a last ditch effort to top the Colts for the AFC South, the blame couldn't be put on Jennings. He tallied 108 yards rushing, a touchdown and four receptions in the 17-34 defeat.
But perhaps the highlight of the season for Jennings was a 74 yard touchdown against the Raiders in week 14 to cut the Oakland lead to 3 and keep the Jaguars in the game. The shift in momentum allowed the Jaguars to topple the Raiders and keep themselves alive in the hunt to win the AFC South. If Jennings continues to develop the way he has over the last two seasons, the Jaguars could be in for the same kind of complimentary running tandem that made Fred Taylor and Maurice Jones-Drew so successful.
18. Jeremy Mincey – DE – Florida
Entering the 2010 season, the Jaguars were desperate to add some pass rushers to help improve a pass rush in 2009 that ranked as one of the NFL's all time worst. They signed Aaron Kampman in free agency, drafted Austen Lane and Larry Hart and added Aaron Morgan through undrafted free agency. The team also held out hope that 2008 first round pick, Derrick Harvey, would develop into the player they felt he had the potential to become.
At the end of the season, though, the player that led the Jaguars in sacks was none of those defensive ends. It was Jeremy Mincey, a fifth year veteran with just two career sacks and zero starts in his NFL career. Mincey started eight games for the Jaguars and accumulated five sacks. Four of his five sacks came during a four game span that vaulted the Jaguars into playoff contention.
Perhaps even more impressive is that Mincey had such a breakout year for the Jaguars all while nursing a broken hand. At 27 years old, Mincey still has growth ahead of him and can continue to grow into the pass rushing threat the Jaguars so desperately still need.
17. Courtney Greene – S – Rutgers
It's no secret that the Jaguars defense wasn't very good in 2010, allowing an average of 26.2 points a game and 371.8 yards a game. Amazingly, in the two weeks that Courtney Greene was out for the Jaguars due to a shoulder injury, that defense got a lot worse. The Jaguars allowed 65 points and 852 yards of total offense in the two games.
Perhaps I like Greene more than most, but he was one of the few players on the Jaguars defense that I trusted to make a tackle. He brought a sense of physicality to the safety position that the team hasn't had since Donovan Darius retired.
Shane Clemons of BigCatCountry and Bloguin's AFC South Daily has made the comparison of Greene's first year as a starting safety to that of the Chargers' Eric Weddle. Greene certainly has a lot of developing to do; however, he is a player that I can see developing into a full-time starter and strong asset in the Jacksonville secondary.
16. Justin Durant – LB – Hampton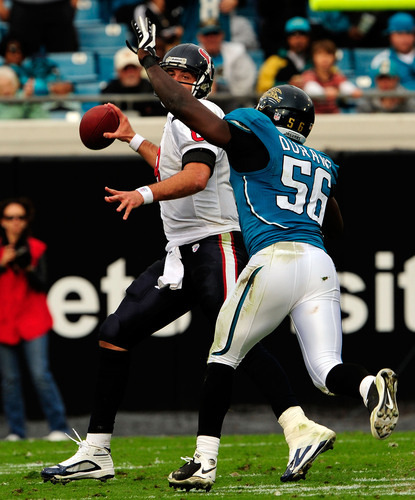 Justin Durant has probably already played his last game in Jacksonville. After four seasons with the Jaguars, they appear to be moving on from their 2007 2nd round draft choice. Nevertheless, with the lockout still underway, Durant is still on the Jaguars roster and makes his way on to this list.
Durant made ProFootballFocus's All-AFC South Team for the 2010 season where they said, "This all depends on what you want from Durant. If you want a guy to drop into coverage you stay away from this guy. Now if you want to use him as a two down linebacker to attack the run, he's amongst the best."
Perhaps most frustrating about Durant is that he has had an injury history that has prevented himself from maximizing the potential he has. An amount of potential that is very high and caused for the small school linebacker to get drafted so early. In his four seasons with the Jaguars not once has he started more than 13 games. In 2009 he started 13 games and had a career high 81 tackles.