NFL Network is in the midst of ranking the top 100 players in the NFL, as voted for by the players. So far they have released players 100-41 and not a single Jaguars player has made the list. It would appear very likely that the only player that will eventually make the list is RB Maurice Jones-Drew.
Despite the strong performances of Terrance Knighton and Marcedes Lewis last season, it's very unlikely that either will sneak their way into the top 40. Big market bias? Perhaps.
Instead I'll whet my rankings appetite by ranking the top 25 Jaguars. The longevity of a career in Jacksonville and the potential for growth in the future are both thrown out the window for these as they are rankings that stack up players in terms of how the play right now. Here are players 25-21:
25. Derek Cox – CB – William & Mary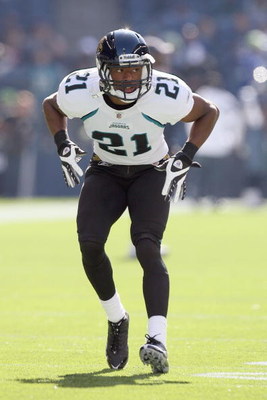 When the Jaguars selected Derek Cox in the 2009 NFL Draft it wasn't without controversy. The Jaguars traded away their 2010 2nd round pick in order to acquire a 3rd round pick in 2009 so they could take Cox just one pick after defensive tackle Terrance Knighton. It was instantly labeled the reach of the draft with Mel Kiper even calling Cox his 106th ranked cornerback.
Two seasons later, Cox's eight interceptions and 19 passes defended lead the Jaguars over that span. Despite being benched in the week 1 matchup against the Broncos (Jack Del Rio said the benching was the result of Cox losing confidence), he bounced back and made up for lost time, finishing the season with four interceptions including a two interception performance against the Cowboys on Oct 31.
Barring another slide in performance similar to the way he started his 2010 season, Cox is in the position to be a full time starter for the Jaguars secondary and continue to improve his play.
24. Vince Manuwai – G – Hawaii
There were questions prior to the season whether or not Vince Manuwai would make the roster. At 30 years old and still recovering from a torn ACL that ended his 2008 season in week 1, there were questions whether he'd be able to hold off the likes of Kynan Forney and Justin Smiley. Well he did…kind of.
Although he managed to hold on to a roster spot, newly acquired Justin Smiley started for the Jaguars in week 1 in place of Manuwai. However, Manuwai re-earned the starting spot and held on for a solid 11 games.
After the Jaguars week 11 matchup against the Browns, Pro Football Focus put him on the "Week 11 All-PFF team" saying, "Manuwai is a pretty consistent guy when he's healthy, but he just destroyed the Browns' front for Jacksonville and was one of the main reasons they won a game on a four-turnover effort from the QB."
23. Eben Britton – OT – Arizona
You can question his play on the field, but his toughness his unquestionable. In an article written by Vito Stellino, Eben Britton described the shoulder injury that ended his 2010 campaign:
"'I dislocated it and I was able to pop it back in on my own. I came to the sidelines and told the trainers. They threw a strap on there to try to stabilize it. During that two-minute drive at the end of the half I came back in and it dislocated completely. It took them two minutes to get it back in there,' he said. He said he didn't think going back in affected the injury. 'I think the damage was done at that point. I wanted to be out there. It didn't matter to me. I just wanted to be out there fighting with my guys. I'm disappointed that it happened,' Britton said."
The Jaguars offensive line has taken heat in the last two years after allowing a combined 82 sacks in those two seasons. Many place blame on the two young offensive tackles, Britton and Eugene Monroe, while others place blame on David Garrard for holding on to the ball too long. As run blocker though, Britton has proven to be a strong member of the Jaguars line and has been able to use his mean streak to plow lanes for Maurice Jones-Drew and Rashad Jennings.
22. Kirk Morrison – LB – San Diego State
Whether or not Kirk Morrison's time in Jacksonville will amount to only the 2010 season is still up in the air, but they may want to consider keeping him around. While he certainly wasn't the best player on the defense, Morrison was a solid tackler that started in all 16 games for the Jaguars.
In Pro Football Focus's analysis of the Jaguars week three beatdown at the hands of the Eagles, Morrison received rave reviews for his performance: "Middle LB Kirk Morrison only played half his defense's snaps but dominated when he got a chance. In his 14 run plays Morrison registered an almost-ridiculous six stops. He was only targeted once in coverage and that fell incomplete to Jeremy Maclin. The Jaguars aren't making the mistake Oakland did of having Morrison play every down, and he's very effective when used to his strengths."
As a rotational player, Morrison has the toughness and intelligence necessary to be a strong player for the Jaguars and they might be best inclined to find a replacement linebacker for Morrison while keeping him around as a rotational player instead of a starter. At 29 years old and 560 career tackles, Morrison can be a contributor for any team in the league.
21. Rashean Mathis – CB – Bethune Cookman
The 2010 season certainly was not one that Rashean Mathis will remember very fondly. However, despite a season that has many fans calling for Mathis's head, he still manages to put fear in the minds of quarterbacks.
In the 567 pass plays he was involved in, he was targeted just 66 times. That comes out to 11.64% which ranks as the 5th lowest percentage in the NFL behind Nnamdi Asomugha, Sean Smith, Asante Samuel and Darrelle Revis. Not entirely surprisng, those same five players rank as the top five in receptions allowed per snap.
An argument can be made that Mathis has been the victim of inexperienced safeties behind him, forcing him to do too much while also making him look bad when the safeties blow coverage. At age 30 and with just one year left on his contract, Mathis's time as a member of the Jaguars is probably coming to a close as his performance has dropped off from the Pro Bowl level of 2006. However, Mathis still has plenty of athleticism, experience and intelligence to be an impact player for the Jaguars secondary.