Today marks the end of the countdown of the top 25 players on the Jaguars roster right now. These final five players represent the biggest assets on the field for the Jaguars and are the biggest difference makers the team has. Players 25-6 have already been released in former posts and the list looks like this:
25. CB – Derek Cox
24. G – Vince Manuwai
23. OT – Eben Britton
22. LB – Kirk Morrison
21. CB – Rashean Mathis
20. C – Brad Meester
19. RB – Rashad Jennings
18. DE – Jeremy Mincey
17. S – Courtney Greene
16. LB – Justin Durant
15. DT – Tyson Alualu
14. K – Josh Scobee
13. OT – Eugene Monroe
12. WR/ST – Kassim Osgood
11. ST – Montell Owens
10. G – Uche Nwaneri
9. QB – David Garrard
8. WR – Mike Sims-Walker
7. FB – Greg Jones
6. DE – Aaron Kampman
And here are the top five:
5. Mike Thomas – WR – Arizona
At just under 5'8, Mike Thomas is the shortest receiver in the NFL, but that has not stopped him from being a very productive player at the highest level of competition. After two seasons, the diminutive receiver has accumulated 114 receptions, 2593 all-purpose yards and six career touchdowns. In fact, in just two seasons he is up to 4th in Jaguars franchise history in all-purpose yardage.
What he is likely most well known for, though, is the catch that was easily one of the highlights of the entire NFL season in 2010. The catch brought Thomas to the national stage where he appeared on ESPN programs, including ESPN First Take.
What he should be most known for is his tremendous production over the last two seasons. Steve Wyremski of Pro Football Focus argued that Thomas is amongst the top 25 fantasy receivers in the NFL and made comparisons to Carolina's Steve Smith and Minnesota's Percy Harvin in his article about Thomas. Thomas has also become known on PFF for his remarkably low drop percentages over the last two seasons.
With the impending departure of Mike Sims-Walker, Thomas's job will be tougher than ever in 2011, yet he has shown no indication that he can't or won't rise to the occasion.
4. Terrance Knighton – DT – Temple
It wasn't very long ago that the Jaguars were known throughout the league for a pair of mammoth defensive tackles, John Henderson and Marcus Stroud, that set the tone for a tough-nosed defense that was one of the NFL's best. Both players have since moved on and play for different teams, but the Jaguars can rest easy knowing they have a solid replacement in Terrance Knighton.
"Pot Roast," as he has become known by teammates and fans, made noise right away starting his first career game and every game since. He has been a stalwart in the middle of the defensive line, playing almost every defensive snap for the Jaguars over the last two seasons. At 6'3, 336 pounds, that might not necessarily be a good thing.
Pro Football Focus named Knighton to their All-AFC South Team and All-Sophomore Team for his 2010 season, but mentioned that he took too many snaps and it caused him to "wither" as the season went on. Giving Knighton the opportunity to stay fresh could turn the Jaguars defense into a powerhouse along the interior of the defensive line.
3. Marcedes Lewis – TE – UCLA
When the Jaguars used a first round draft pick to select UCLA tight end Marcedes Lewis, it was with the idea that the 6'6, 255 pound target could become a strong receiving threat for the Jaguars. After a couple seasons, though, fans began to grow impatient with the development of Lewis as he still struggled to establish himself as a legitimate receiver for Jacksonville. Surprisingly, he had become a strong blocker for the team, though, something that the team didn't have in mind when selecting him.
However, entering his sixth season Lewis has become everything the team hoped he would be and more. While he presents a huge receiving target for the team, his blocking has helped the Jaguars remain the dominant running team they have defined themselves as. After seven career touchdowns in his first four seasons, Lewis broke out with 10 touchdown receptions in 2010 and made the Pro Bowl, where he caught a touchdown from San Diego's Philip Rivers.
Marcedes Lewis has clearly become one of the league's better receiving tight ends, but ranks among the elite players in the league when you add in his ability to block. As a run blocker he paves the way for Maurice Jones-Drew and company, and as a pass blocker he allowed just four quarterback pressures in 109 pass blocking assignments. In a conference that features tight ends such as Dallas Clark, Antonio Gates, Owen Daniels, Zach Miller and others, making the Pro Bowl is an accomplishment that can not be overlooked.
2. Daryl Smith – LB – Georgia Tech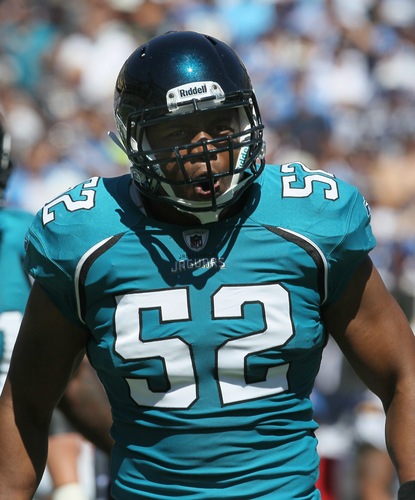 There are certainly many underrated players in the NFL that don't receive the recognition they deserve. At the top of that list is the Jaguars linebacker Daryl Smith. Somehow, year in and year out, Smith goes unrecognized by the majority of the national media and the fans. Yet stats and analysis continue to show him to be one of the league's strongest defensive forces.
Football Outsiders made a measure of something they called "Defeats" in 2011. A Defeat is defined as any play that does one of three things: A) causes a turnover; B) causes a loss of yardage; or C) stops conversion on third of fourth down. Guess who came in at the top of their list?
The four players behind Smith were Justin Tuck, Cameron Wake, James Harrison and Demarcus Ware, accordingly. All four of those players made the Pro Bowl, while Smith was hardly considered.
In 2009, Daryl Smith ranked as Pro Football Focus's top 4-3 outside linebacker. In his seven seasons with the team, Smith has started 106 of a possible 112 games. Yet somehow as he prepares for his 8th NFL season, Smith is still an unknown that will continue to play top-notch for the Jaguars defense.
1. Maurice Jones-Drew – RB – UCLA
Easily the most recognizable and marketable player on the Jaguars, it's easy to argue why Jones-Drew should be at the top of this list. In his five NFL seasons, Jones-Drew has accumulated a staggering 63 touchdowns, 54 of which came rushing. His 5428 yards rushing are second only to Fred Taylor on the franchise's all-time leaderboard.
Jones-Drew is up to 98th on the NFL's all-time yardage list and 50th on the all-time rushing touchdowns list. If he stays on his current pace, Jones-Drew could be in the top 25 in touchdowns and top 50 in yardage in as little as two seasons. At just under 5'8, Jones-Drew has defied the odds and naysayers that caused him to fall to 60th overall in the 2006 Draft and has become one of the league's bonafide superstars.
When Fred Taylor left there were questions whether or not a player of his stature would be able to be a featured running back in an offense, but he has had Pro Bowl seasons in each of the two seasons since Taylor's departure.
Finding reasons to put Jones-Drew at the top of any list is not difficult as he has been the face of the franchise for the Jaguars and his accomplishments are endless. With a long-term contract signed in last year's offseason, Jaguars fans can rest assured knowing Jones-Drew will continue to run over divisional rivals.