The regular season has finally arrived, as the Jacksonville Jaguars (0-0) travel to Minnesota to face the Vikings (0-0) on Sunday afternoon at the Metrodome. This game is significant for the Jaguars, as it's the team's first regular season game under new Head Coach Mike Mularkey, and an offensive unit with key additions, including wide receivers Justin Blackmon and Laurent Robinson. It will also be a battle of two second-year quarterbacks, as Blaine Gabbert faces Christian Ponder, two quarterbacks that were selected tenth and twelfth overall, respectively, in the 2011 NFL Draft.
Maurice Jones-Drew, who ended his holdout only one week ago, will be active for this game, after the team waived running back Keith Toston on Saturday afternoon. Head Coach Mike Mularkey has said that Jones-Drew will primarily be in the game as the third-down back, so it will be interesting to see how many carries the three-time Pro Bowler has on Sunday. Hopefully, the rushing tandem of Maurice Jones-Drew and Rashad Jennings can wear out defenses this year, much like the explosive duo of Jones-Drew and Fred Taylor, only a few years ago. It all starts on Sunday, and the Jaguars will have to get the run-game going if they want to take control of this game.
Speaking of running backs, the Vikings will likely have Adrian Peterson back in the lineup, who is coming off an ACL injury, suffered late last season. It will be interesting to see how many carries Peterson has, as well as how effective he is against the Jaguars defense, which was ranked sixth overall in the league last season. One other key match-up to watch in this game will be Vikings defense end Jared Allen matched up with Jaguars left tackle Eugene Monroe. Monroe will face a tough test right out of the gate.
On the injury front, the Jaguars will be without linebacker Daryl Smith, who is out for this game with a groin injury. Also out for Jacksonville on the defensive side of the ball will be defensive ends Austen Lane and George Selvie, with cornerback Derek Cox expected to miss the game as well. Luckily for the Jaguars, the Vikings don't have any real offensive receiving threats outside of Percy Harvin.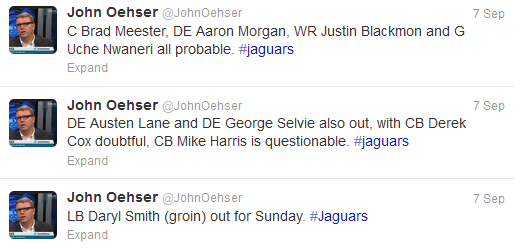 Game time is set for 1:00 pm EST from the Metrodome in Minnesota. Go Jaguars!